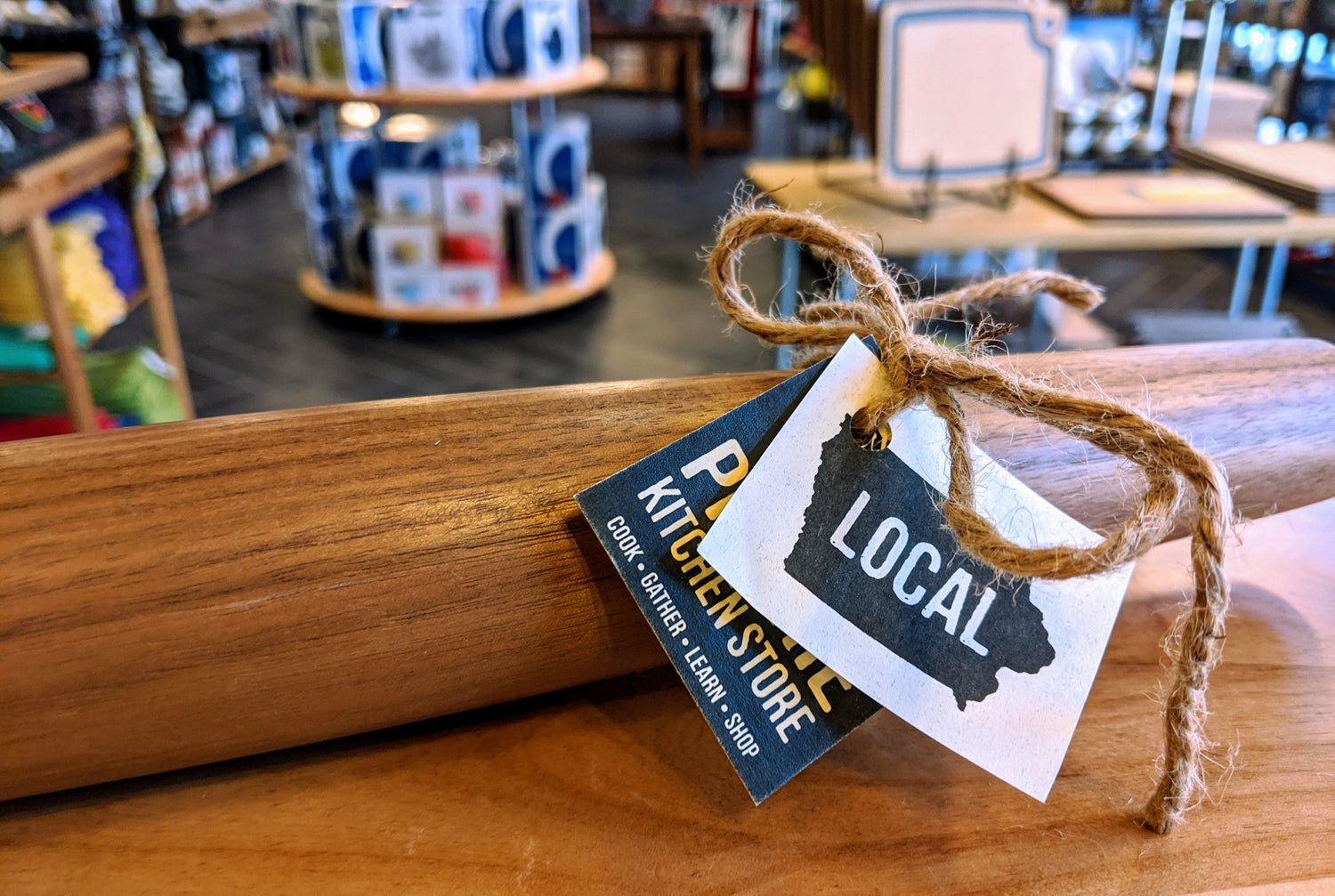 Shop Local
Local gifts at a local store? Doesn't get much better than that. Iowa has so much to offer... Give a special person a unique gift, and support the diversity of your local community.
Do you know a local maker, or are you one yourself? We'd love to learn more. Send us an email at pks@prairiekitchenstore.com, and introduce yourself.
Meet some of our local makers...
Ansel's Awesome Sauce

Ansel Cummings makes his world-class hot sauce in Riverside, Iowa, using the "roots and fruits of Iowa." His small batch sauce is incredibly flavorful, and comes in 6 heat level varieties.

Down to Earth Creations

Dennis Wonick's woodworking shop north of Iowa City is the production point of countless beautiful charcuterie boards, turned bowls, trivets, coasters & more.

Seams Logical

High quality hand sewn items by Diane J. Crossett, Iowa City seamstress. Look for aprons, trivets, bowl cozies, napkins and more by Diane.
Turning Heads Woodworking

In addition to his woodworking pursuits, Adam Stockman laser etches slate coasters with all sorts of designs, many of which are his own artwork.

EmaJo Designs

Hand-sewn aprons, hot bowl cozies and "pinch me" potholders are all on offer from Iowa City maker Bonnie Streinz. Say hi to her at the next Iowa City Farmers Market!

Joanna's Tonic Syrups

Joanna Mouming makes tonic syrups that are used in restaurants in and around the Iowa City area. We love her elegant flavors and the gorgeous labelling.
Nancy Romalov

Iowa City woodworker and furniture-maker extraordinaire Nancy Romalov is well known for her creativity and talent. Cutting/Serving boards, rolling pins, lazy Susan's and other works of art are her specialty.

Holton Homestead

The folks at the Holton Homestead, located in Elkhart, Iowa, make their own honey products with some fantastic flavors. We love their simple packaging and wide variety of offerings.

Great River Maple

Great River Maple is an organic sugarbush located in Garnavillo, Iowa. It's a small, family business (just like us!), with a fantastic quality product line. Who doesn't need some bourbon maple syrup?
Jimmy Jack's Rib Shack

Longtime Iowa City staple restaurant Jimmy Jack's Rib Shack entered the world of sauce-bottling not too long ago, and we are forever grateful for that decision. We love, love, love the Carolina Mustard.

Morning Bell Coffee Roasters

Believe it or not, one of the country's top coffee roasters is located in Ames, Iowa. And we're privileged to offer a rotating selection of Morning Bell's whole bean coffee roasts by the bag in our store.

La Reyna

La Reyna's popular corn chips are made in Vinton, IA. Thick, toasty, and crunchy, they are the perfect partner to salsa, or the star of your next Chilaquiles night.